Leverage Your Network to bless others
As college students, many of us have access to a vast network of fellow students who are looking to gain new skills, make an impact, and bless others around them. A few years ago, some friends and I launched Multiply Groups, a campus ministry at Samford University. As we built this ministry, we relied heavily on our network to lay the foundation for the ministry. 
WHO IS IN OUR NETWORK?
Your network can be defined as the coaches, colleagues, and casual friends around you. These are not necessarily your closest friends, but are those who are gifted in particular ways.
Coaches can be mentors, professors, or pastors who help provide strategic oversight to your project. At Multiply Groups, we brought 8 college ministers together to oversee our ministry as an advisory board. These ministers have blessed our ministry and strengthened our efforts.
Colleagues can be work friends or classmates who you have interacted with in a work or classroom setting. These are students who have shown a goodwork ethic. Your natural connection through work or school allows an opportunity to connect.
Casual friends are often "friends of friends." While you may not know them personally, these are broad connections that could lead to fantastic teammates in future projects. Many of our volunteers at Multiply Groups started as "friends of friends" who joined our team and have become dear friends.
HOW WE LEVERAGED OUR NETWORK
When we launched Multiply, we had been on campus for only a few days so we relied on high school friends who volunteered time to help us make the ministry successful. As we grew, we continued to rely on volunteers who used their skills to build a website, automate workflows, interview new leaders, and lead small groups.
Over four years, our ministry boomed from a mere 8 founding members to several hundred students across campus. Regardless of the size of our ministry, we needed the network around us to help us bless others.
WHY TO ASK YOUR NETWORK FOR HELP
When you ask your network for help, your ability to solve complex problems, build sustaining ventures, and bless your community exponentially increases. This is because God has uniquely gifted each of us differently. The Bible seems to place value on depending on others, not as a replacement for reliance on God, but as a way to strengthen us. Consider the words of Paul to the Corinthians,
For the body does not consist of one member but of many. If the foot should say, "Because I am not a hand, I do not belong to the body," that would not make it any less a part of the body. And if the ear should say, "Because I am not an eye, I do not belong to the body," that would not make it any less a part of the body. If the whole body were an eye, where would be the sense of hearing? If the whole body were an ear, where would be the sense of smell? But as it is, God arranged the members in the body, each one of them, as he chose. If all were a single member, where would the body be? As it is, there are many parts, yet one body.


1 Corinthians 12:14-20
We ask for help because our network can strengthen us. When we try to solve problems by ourselves, we will likely face challenges that we cannot overcome alone. Leverage your network to bless others because God has uniquely gifted each person.
WHEN TO ASK YOUR NETWORK FOR HELP
Two years ago, in the midst of a global pandemic and racial protests, my friend Anna Claire Noblitt started a podcast called The Dual Citizen Podcast. Her podcast stood out from the multitude of poorly produced student podcasts as an insightful and well made series.
Refreshingly, Anna Claire's was well-produced with uniquely wise commentary on the current issues facing our country. I called Anna Claire and encouraged her to keep up the good work. During this conversation, she shared how she loved hosting the podcast but dreaded production and marketing.
Within a few weeks, we found her a team of college students from around the country who ran her marketing and production efforts. These students served alongside her for over a year producing The Dual Citizen before she eventually stepped into a podcast hosting role for a larger ministry.
Anna Claire is uniquely gifted to host fascinating conversations on faith and civic engagement, but managing the marketing and production drained her. Perhaps you've noticed that your efforts never get off the ground because of a particular challenge. Consider reaching out to the people in your life to meet these particular challenges.
How To Ask Your Network For Help
Asking your network for help in any project can be daunting. We ask our network for help by casting clear vision, needs, and expectations. When you are working with college students, it is incredibly important that they believe in the vision of your project.
Cast a Clear Vision
Due to the recruitment culture of college campuses, it is essential to cast a clear vision for your project. To determine the vision of your project ask yourself why you are working on this project. Try to answer the following question as succinctly yet completely as possible. For example, at Multiply Groups, we help students experience transformation through a commitment to spiritual disciplines in community. Be sure to explain what problem you are solving and how you are going to help people overcome this challenge.
Explain Needs Clearly
In our vision statement, the focus is on helping students experience transformation. Stagnation, drifting, and isolation plague college campuses. As a result, we've established accountability groups across our campus that breed vulnerability and community. When you are recruiting new volunteers, be sure to focus on what needs you are meeting as an organization.
Even more specifically, explain what needs you'd like them to meet. When we were working with Anna Claire to find her a production team, we asked Georgia and Kyle to produce the podcast. When they joined the Dual Citizen team, they understood what role they were playing.
Set Clear Expectations
When leveraging your network to bless others, set clear expectations for those you are recruiting. When you fail to communicate clear expectations, you set your team up for confusion.
Where to Start
There is power in asking for help. Without asking Georgia and Kyle for help, Anna Claire likely wouldn't have continued hosting the Dual Citizen Podcast as long as she did. Without finding key volunteers, Multiply Groups would have disappeared after our founding members graduated. If you want to bless others around you, start by leveraging your network, start by asking for help.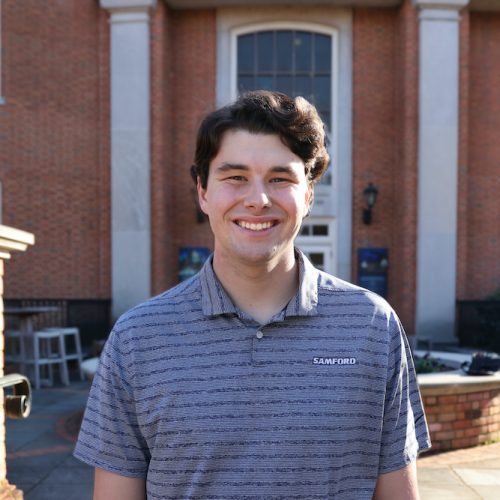 Cole Shiflet is a digital marketer, social entrepreneur, and aspiring pastor. He leads Accelerate, a digital marketing agency in Birmingham, Alabama, which renews culture by helping redemptive brands grow. He is passionate about blessing his clients through transparency and quality of service. Cole has worked previously with The Gospel Coalition, Radical, Rooted Ministry, and more Christian ministries. Cole is a member of Redeemer Community Church and is passionate about gospel ministry among unreached people groups. He hopes to plant a church in the future. https://acceleratewebgrowth.com/