The Indigitous Hackathon, October 22-24, has come and gone with more than I had imagined. In just one weekend, Christians from all over North America came together to offer their skills and talents for a Kingdom projects. 
We collaborated with 6 organizations to create challenges and problems for participants to tackle.

American Bible Society, Coalition of the Willing, World Vision

Chinese Mission Convention, Hope Media Group, Vision 5:9

Silicon Valley, Dallas, Vancouver
From the North American side, here are some other stats:
200 people Discord participants
50+ Ministry Friends of #HACK
12 Mentors, including Apple, Slack, Basil Tech, FaithTech
Kick-Off Speaker – Kevin Kim, Crazy Love Ministries
Side Sessions


Problem Definition Workshop
Ideation Workshop
Devotional
Programming Workshop
Tech and Missions Ask Me Anything Panel
Check out the main #HACK page for all the details from this year's Hackathon
We had 13 great submissions and Living Atlas came out on top! Living Atlas tells the story of Jesus and gives you a virtual tour through geographic maps to see where he traveled and the stories of the Bible. Check out the project.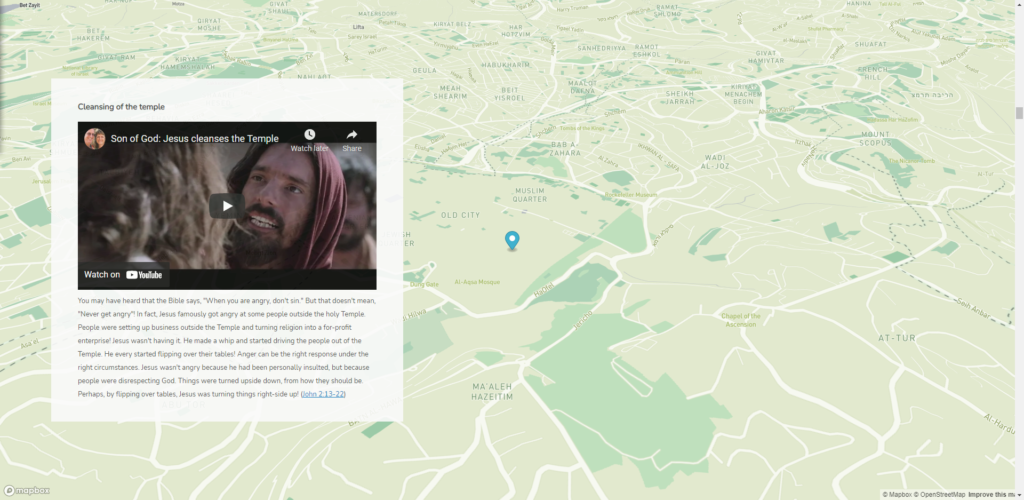 My role in this year's #HACK was on the coordinating team, which included planning for the big weekend. During the weekend, my time went to helping our co-director, Yan, with operations and community engagement on Discord. I found it to be inspiring to see so many people come together to spend their entire weekend hacking away at a project for missions. The biggest encouragement was to see people across the continent collaborating. Even if the project was only a prototype, there were new relationships formed. Now a technologist in Silicon Valley knows another like-minded technologist in Pennsylvania.
Our in-person pod took place at a Christian co-working space in Palo Alto, CA. Besides helping out with community engagement on the virtual side, my highlight for the weekend was capturing video of our pod. Several of the mentors and judges had come through to visit and join in the hackathon. Apps like Zoom and Discord made virtual communication easy to use and accessible. But, it has opened up the desire to actually meet these people in real life. We found that in-person gathering after having only ever met online was so much faster in building trust. Plus, this was like a gathering of super-stars in the faith, tech, and missions space.