Stories from The Character Design Cohort 2021 - Part two
In the summer of 2021, a group of artists from a local church in Los Angeles, illustrated character designs of Frontier People Groups.
Each artist researched, designed, and wrote short stories for 31 people groups who have little to no access to the Gospel. The project has been highly received and has been an encouraging journey for the local church. Furthermore, it has mobilized young adults to share about global missions to families. These are their stories.
Becky, art student, artcenter
I'm truly thankful to God for working in each of our lives and bringing us together to work on this project. It's been a long and interesting journey throughout this past summer. We faced challenges and growth, but God was with us the whole time.
Although I've been studying art and illustration, I never focused on character design in particular. After a while, the art/writing/work became the focus for me. But God had taught me again and redirected my heart towards the true reason for this project.
God surprised me throughout these weeks. He grew my empathy for His people and allowed my heart to feel for them the way He felt for them. There are so many people who don't know the love of God, but God sent his son Jesus for them too.
There were also a lot of times where I felt so overwhelmed by everything. Last summer was really busy for me with a full-time internship, another side hustle working for my professors, and this project. Not only that, I didn't feel like I was mentally in a good place because of quarantine and life, especially in the first half of 2021. A lot of days everything felt like so much that I couldn't do anything.
Even through those times, I knew God was with me. There were many days I was mentally exhausted. I couldn't help but pray to ask and rely on God for strength because I knew I could not do it on my own. And He brought me peace in many ways, through friends, family, church, and His living word. God got me through it all.
By His strength, I was able to finish strong. Through my weakness in all my turmoil, confusion, exhaustion, God showed me that I could trust Him. His plans are far greater and better than mine, and  He cares so deeply for me and all his people.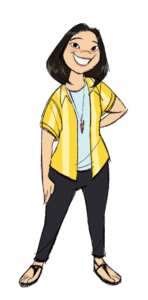 Whitney - art Student, azusa pacific university
Towards the final two weeks of the project, I was feeling all the things I thought I would. Coming into the project, I was excited and nervous! 
Even though I am pursuing a career in animation, character design has never been a strong point. Taking on this project was a bit nerve-wracking to begin with. There's so much to do and learn within the realm of character design. I'm absolutely thankful for the opportunity to work together with friends who are both artistic and willing to serve God in this creative way.
Throughout the span of this project, I've learned a lot about  Unreached People groups, our team, and myself. 
But, one thing God's been putting on my mind lately is the "process" of things. In one of our team discussions, we talked about the story of creation. God breathed the earth and life into existence and took the seventh day to rest. 
Looking back to the very start of this project, it was a simple proposal for a few of us at our church to get together and draw some people. I never imagined that we'd have an official team with our church's support and many friends and family praying for us daily. It became something much more than I anticipated. 
Another major aspect where God has been showing me the "process" is through the art our team and I have been doing. We all have our own styles and steps to get to the finished character designs. I honestly found it all fascinating to see how different everyone's approach was. I noticed that I tend to rush through making character designs. 
In this project, I learned to take a step back. I became intentional in making design choices. I allowed God and my team to take me through the whole design process together.
In the creation story, God could've done it all in one shot. But, He chose to carry out His process across seven days with purpose. I also needed to be purposeful in my design process.
As our team wrapped up design, I knew God grew us in our art and spirit together.  I look forward to how far God will take this project! We're leaning on Him for the strength and motivation for the next steps. In the end, God works in many, unpredictable ways. 
Most of us on the team weren't sure something like this could ever happen: using our creative and artistic skills for missions, but it did! So I'd like to encourage whoever is reading this. Whatever gifts and talents, interests, and serving capacity you have, God can always use you in ways that are only known by Him.
Samuel - Art Student, loyola Marymount university
Good work is hard work. The opportunity to work on this character design project was lightning in a bottle! When I first heard about it, it combined the two things I was already doing this summer – drawing and serving God. 
Added onto that was a team of close and talented friends. This was the promise of a design project experience that I'd never had before. I was pretty much all in! What I wasn't prepared for were the work-related challenges. It renewed my view of how God places work in our life.
Because work is hard. During the first 3 weeks, I learned that doing what you love doesn't always mean loving the "doing" part. Like all the work I've done before, this project has been plagued with my own procrastination. On occasion, I was frustrated over getting the work done. It took constant reminders about why I'm doing the work. Fortunately, those reminders came all the time.
Because work is hard, evaluating why we work makes it less hard. We went through Every Good Endeavor together. From it, I've been able to reframe the work that I do. It was not a "necessary evil", but an opportunity to serve God and others through our own talents.
And even in the tasks that weren't expressly Christ-centered, I've been able to see Christ working. Researching these People Groups and their customs, foods, festivals and city names has opened up my eyes to God's work. There were many places I can now find on a map. At a time when real-life travel is still off the table, the ability to purposefully pray over people across the world made all the work worth it.
So work is hard, but as the work gets deeper, so does the reason to work. I've learned more about drawing in the past three weeks than I did in the past year. 
Through these people groups, I've expanded an understanding of God's work outside of the school/church/home sphere. While we had looming deadlines, I remember getting caught in the "how" to work well more than the "why" we were doing this. This project has proven to be a great opportunity to serve and has shown me why we serve at all.
Over the past summer, the idea of missions has changed from the far-off, overseas/away-from-home vision that I've held for so long. Overseas missions is still essential to the spreading of the gospel. 
But, as the world continues to shrink and technology grows, digital missions has become more inspiring to me. A month's trip overseas is not anywhere in my schedule anytime soon. But, the opportunity to serve at capacity while keeping up with school and work has been a great experience.